Forced Air Space Heating with Anesi Gas Heat Pumps
When the weather outside is frightful, you don't want to worry about keeping your family warm. Anesi gas heat pumps use your natural gas or propane fuel source to provide the warmth you need at a price you can afford.
High Efficiency Forced-Air Space Heating With An Anesi Gas Heat Pump
The Anesi gas heat pump (GHP) offers the latest high-efficiency home heating technology using 30-50% less fuel to provide the same warmth. It will also result in similar reductions to your utility costs and carbon footprint. If you are looking for a way to help the environment, this product immediately reduces your carbon footprint by using less fuel; with about the best (lowest) carbon footprint possible in home heating. Read more about the research and technology behind the Anesi gas heat pump.
Why Anesi?
Full warmth and comfort in the coldest temperatures
Lowest cost of delivered heat
Competitive (if not best) carbon footprint
Simple "plug-n-play" installation when swapping out an existing furnace and water heater.
All combustion and venting remain outdoors.
No refrigerants inside – only warm water!
Environmental Benefits of Anesi
Anesi's GHPs use thermal heat, not electricity, to drive their gas absorption cycle. It has a third-party verified Annual Fuel Utilization Efficiency (AFUE) rating of 140% and requires no backup appliance. The Anesi GHP can accept many primary energy sources, such as natural gas or propane, and will easily adapt as cleaner, environmentally-friendly molecules are delivered by the gas industry. Because less gas is used in these ultra-efficient gas heat pumps, they contribute to greenhouse gas reduction efforts.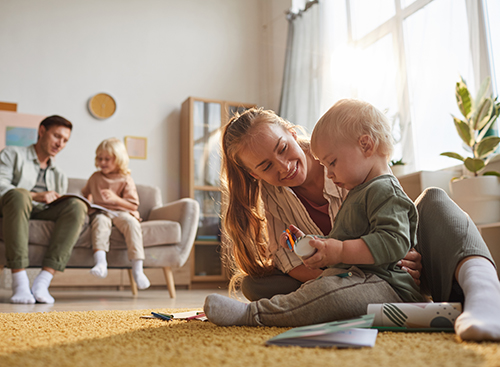 Anesi Gas Heat Pump Forced-Air Space Heating Components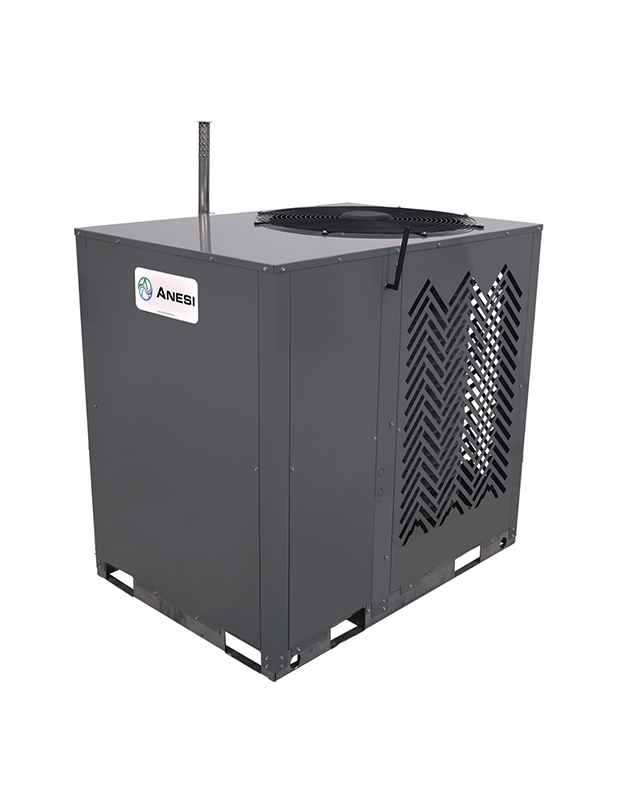 80K
Gas Heat Pump
AHU
Air Handling Unit
IST
Indirect Storage Tank
How the Anesi GHP System Works
The Anesi GHP sits outside the home and is connected indoors by a pair of 1-inch copper or PEX pipes. Within these pipes is warm water with food-grade glycol added for freeze protection. This warm water flows through a heat exchanger in the custom Air Handling Unit (AHU) and the modulating blower moves the warm air throughout the home, just the way the old system did. If you want to heat domestic hot water within the Anesi system, an Indirect Storage Tank (IST) replaces the old gas water heater.
The home's existing infrastructure and utilities (gas and electricity) should support the Anesi system without significant modification. In a furnace replacement situation, the Anesi Air Handling Unit attaches to the existing ductwork. Your installation professional will simply run electricity and gas to the outdoor GHP unit – no need for electric panel upgrades. If your previous gas heating system provided adequate comfort, there is no need to change or upgrade the home's ductwork.
---
Remote Monitoring
The Anesi GHP can be monitored remotely to provide data on performance and potential service needs, enabling your installation professional and Anesi to work together to resolve any difficulties. Anticipating problems before they happen and responding proactively is a key feature that makes life easier and lowers costs for both you and your installation professional.
How to Buy Anesi Products
Anesi products are available through HVAC distributors and installation professionals within the USA and Canada.
Contact us for more detailed information about Anesi products and availability.